I have been testing the PTS50 Pneumatic Trailer Support System for a few months now. I began working with Prime Transport Solutions back in October to evaluate the benefits of this new equipment.
The PTS50 replaces the traditional gear driven support leg assembly. The pneumatic landing gear has several advantages. First, you don't need to use the hand crank method to raise or lower the trailer landing gear. This can be a convenience when space is at a minimum and you cannot physically get to the hand crank. Also, the feature is safer as it reduces accidents and compensation claims. Another benefit is that it's stronger as there is no gear box and the locking pin system is engineered to withstand the rigors of daily misuses. The pair of legs is designed to support 220,500lb. The features also make it much faster to use than the tradition hand crank method as it only takes under 5 seconds to raise or lower the landing legs.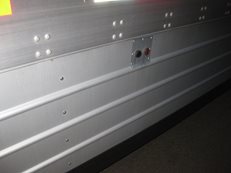 I was anxious to test the PTS50 Pneumatic Trailer Support System for the aerodynamic benefits. You may be asking yourself, how can the pneumatic landing gear assist in improving my aerodynamic package? By not having the hand crank, it was possible to extend the trailer side skirts completely past the landing gear which further smooth's the airflow along the sides of the trailer. Now there is simply two buttons to raise or lower the landing legs.
I am used to having the flexibility to raise or lower the landing gear based on whatever height the fifth wheel might be located. With this system, it only offers one position which is up or down to a set spot. At first, I thought this would be a major issue due to varying terrain. Therefore, each time I stopped, I experimented along my route with the different circumstances before me. The results were that it really wasn't an issue for me.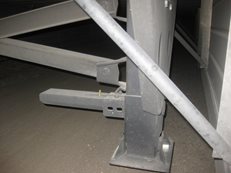 For an on-highway operation, this system would work fine. Off-road and construction operations could be a different story. Although, I've noticed that logging trailers often have a non- adjustable landing leg system. Maybe the system would work better than I think for an off road operation. If a logger can get by with a non- adjustable landing let, then it would seem that it just may work for nearly everyone.
There are a few other advantages to this system. It's approximately twenty pounds lighter. It also has a provision to manually lift the landing leg should any of the parts fail in the pneumatic lift cylinder. It seems to be well designed and robust. You can find out more at their website at  Prime Transport Solutions
www.teamrunsmart.com/CMSPages/PortalTemplate.aspx?aliaspath=%2fThe-Pros%2fHenry-Albert%2fDecember-2013%2fAerodynamic-Landing-Legs#!